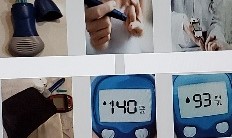 As COVID-19 continues to wreak havoc on our lives worldwide with over 21 million cases and killing over ¾ million people (https://www.who.int/emergencies/diseases/novel-coronavirus-2019/situation-reports), we must take all necessary measures to combat its devastation. The rate in United States is 5 million plus cases with a death toll of 168,696 as of August 16, 2020 (CDC, 2020). Here are some tips on blood glucose monitoring, which could lead to a decrease in emergency room (ER) visits and exposure to this deadly virus.
Identifying when your blood glucose level is low or high, and the steps that you should take to avoid further complications such as hypoglycemia, could prevent visits to the ER, thereby, decreasing your exposure to this viral illness, COVID-19.
Always check your blood glucose level in the mornings before breakfast (fasting blood glucose) or per your Provider's advice.
Always check it if you experience symptoms such as:

confusion
headaches
shakiness
fatigue
frequent urination, among others

Take appropriate action (simple carbohydrates) or insulin (sliding scale) if the glucose level is low or high, respectively to achieve stable blood glucose value.
Examples of simple carbohydrates to treat low blood glucose are:

glucose tablets
fruit juice
regular soda (not diet)
gummy candy or regular Life Savers

Check again in 15 minutes after treating yourself and if it continues to be low, re-treat yourself with simple carbohydrates until stable blood glucose value is achieved.
Administer insulin if the blood glucose level is high and you are experiencing symptoms (ask your Provider for a sliding scale or seek medical attention before the condition worsens).
Remember to also re-check your blood glucose in 15 minutes after you take the insulin in situations like these.
Make certain to carry your blood glucose monitoring kit and the necessary treatments wherever you go. Stay healthy and practice appropriate hygiene such as covering cough, washing hands frequently, and wearing masks to minimize the risk of contracting or spreading COVID-19.
Please visit the Shop page for videos on Blood Glucose Monitoring, Footcare, and much more to help you manage your Type 2 diabetes; stay healthy and safe.
References
Centers for Disease Control and Prevention (2020). Coronavirus Disease 2019 (COVID-19).
Retrieved from https://www.cdc.gov/coronavirus/2019-ncov/cases-updates/cases-in-us.html
World Health Organization (2020). Coronavirus disease (COVID-2019) situation reports
Retrieved from https://www.who.int/emergencies/diseases/novel-coronavirus-2019/situation-reports