This blog addresses Gestational Diabetes Mellitus (GDM), and the steps that can be taken to prevent it.
What is GDM?
GDM is the most common metabolic complication associated with pregnancy that's defined as a carbohydrate intolerance of varying degrees, resulting from hormonal changes as a result of reduced insulin production or insulin sensitivity, which in turn elevates the blood glucose in pregnant women (Metzger et al., 2008). As the world's prevalence increases with both Type 2 Diabetes Mellitus and obesity, there is an upsurge of GDM that is associated with poor eating habits and lack of physical activity.
Why is it important to prevent GDM?
It is imperative to prevent GDM in order to eliminate adverse conditions such as macrosomia (large fetus over 4000 g), respiratory distress syndrome, neonatal hypertension (high blood pressure), hypoglycemia (low blood glucose), hypocalcemia (low calcium in the blood), shoulder dystocia, and polycythemia (an increase in red blood cells that could impair blood flow), delivery via cesarean section due to macrosomia with injury to the birth canal and fetus, in addition to obesity and Type 2 Diabetes for the mother and child in the future. With the global pandemic of COVID-19, it is of high importance to prevent GDM, which could exacerbate respiratory distress and other issues for the neonate.
Steps to take to prevent GDM
Adjusting your oral intake to include healthy meals using your own ethnic foods and eating smaller portions (3 portion-controlled meals with 3 snacks) throughout the day will not only prevent GDM but also provide the correct amount of nutrients for both mother and fetus. An example of oral intake could start with a well-balance breakfast, followed by a small healthy snack 2 hours later; a healthy portion-controlled lunch with a nutritious snack 2 hours later; a wholesome portion-controlled dinner and another small snack 2 hours later (avoid eating 3 hours before bedtime to prevent heart burn/GERD symptoms). The meals and snacks should contain healthy nutrients consisting of fruits and vegetables, complex carbohydrates, lean protein, no saturated fats, and drink water instead soda.
Consuming nutritious well-balanced meals along with healthful habits will result in a healthy pregnancy, no delivery complications, no GDM, or no Type 2 Diabetes in the future. Support from family and allocating time to prepare the meals are important in addition to choosing the healthier foods. As many are at home during this pandemic, cooking healthy meals should not be too much of an issue. This is a lifestyle behavior change, which benefits not only the pregnant female but everyone in the family and especially the fetus. Education on nutrition must take place before behavioral interventions could occur; as well, factors such as family dynamics, culture, economic, and social aspects are important considerations and must be evaluated for each person to prevent GDM (Gallani, Cornelio, Agondi & Rodrigues, 2013).
Healthy eating and habits = healthy life = reduced complications, which could mitigate the effects of COVID-19.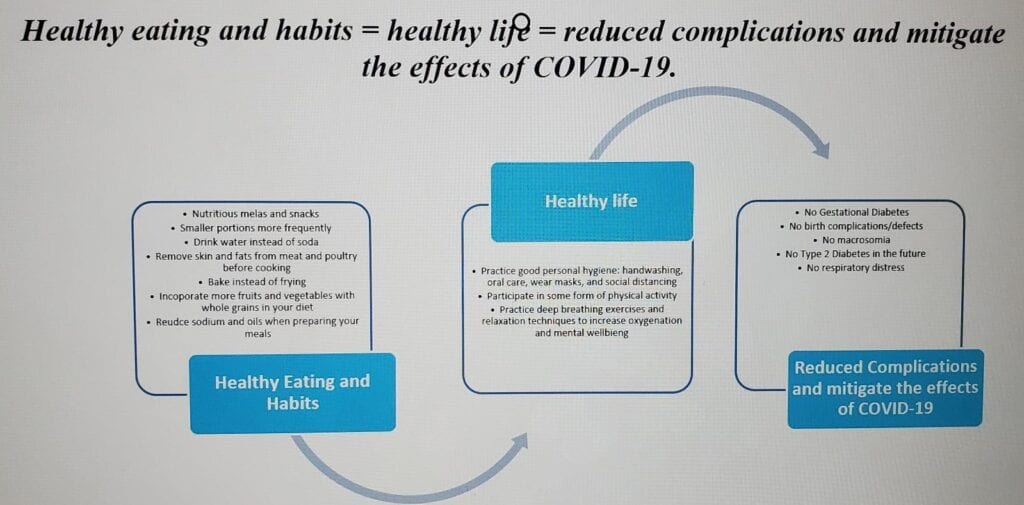 References
Gallani, M. Cornelio, M. Agondi, R. & Rodrigues, R. (2013). Conceptual Framework for Research and Clinical Practice regarding Cardiovascular Health-Related Behaviors. Latino-Am. Enfermagem. 21: 207- 215
Metzger, B.E., Lowe, L.P., Dyer, A.R., Trimble, E.R., Chaovarindr, U., Coustan, D.R., Miksch, S. Cheng, K. and Roth, B. (1996). A Cooperative Agent Patient-Centered Demands and Needs. Cimino. 144- 148